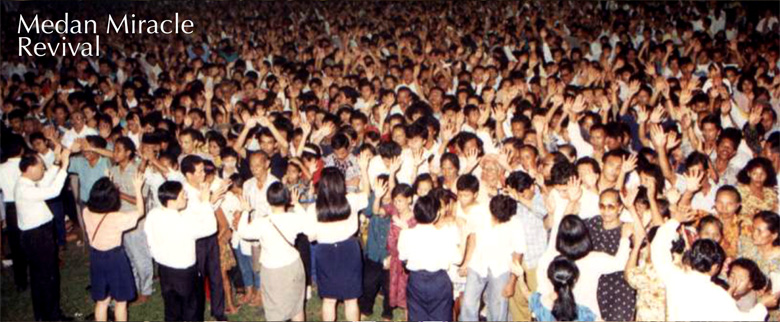 Medan Miracle Revival
In 1979, while preparing for his first mass healing crusade, God spoke to Pastor Rony in a clear audible voice,"SON, I'LL USE YOU TO SHAKE THE NATIONS!"
Over the last 20 years, Pastor Rony has gone all over the world to proclaim the Gospel and demonstrate that Jesus is still our Healer.
Countries he has visited include Malaysia, Indonesia, Philippines, Thailand, India, Japan, Australia, Fiji, Israel, Canada and the USA.
In Indonesia the Press reported that a total of approximately 110,000 attended the 5-night crusade. Many received their healings.
The Press shared this remarkable incident, "On the second night of the crusade the sky became threatening at one point. There was lightning and loud thundering. Anyone can tell that a heavy storm was brewing. Rain was about to pour.
But when Evangelist Rony Tan took the platform and prayed and commanded the impending rain to be held back. It did."