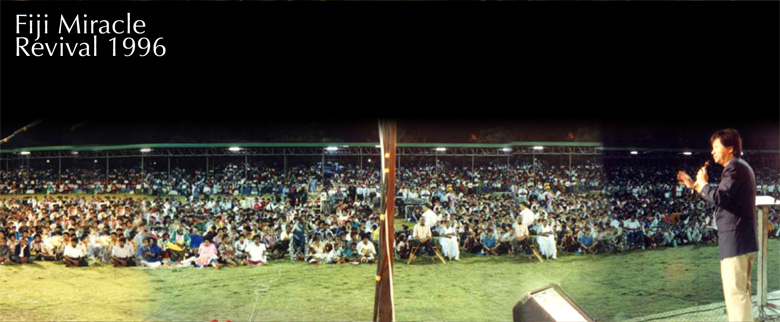 Fiji Revival 1996
October 16 to 20, Churchill Park Stadium, Lautoka
The nation of Fiji, with a population of 780,000, will never be the same again. For five glorious nights from 16 to 20 October 1996, God's mighty presence was at Churchill Park Stadium, Lautoka. Thousands, both descendants of native Fijians and migrant Indians, were there to witness a great outpouring of the Holy Spirit. They came from all over Fiji. Nadi, the nearest major town is about 25km away and other towns such as Ba, Tavua, Rakiraki, and Singatoka are at least 100km away.
Each night, when Pastor Rony made the altar call for salvation, thousands of people would literally surge forward. After each mass healing prayer, miracles as in the Book of Acts began to happen: Wheelchair-bound invalids leapt to their feet and started to walk; the deaf and dumb heard and spoke for the first time; demons were cast out from those who were possessed; sight was restored to those who were blind; growths and tumors just disappeared; and paralysed bodies were made whole.
In all, about 60,000 people had attended the Miracle Revival. On the final night, the congregation grew to 25,000 making it the biggest Christian meeting ever in the history of the Fiji Islands.
When Pastor Rony preached on how to receive the five miracle keys, practically everyone in the stadium lifted up their hands in response to receiving the miracle keys. During the altar call for salvation and rededication, almost everyone responded! At the end of his message, Pastor Rony did not have to pray the mass healing prayer. The anointing was so strong that he simply told the sick and afflicted to stand on their feet to receive their healing. God did not disappoint them. Countless numbers of people were instantly healed by the power of God and many were brought forward to the stage to testify before the congregation.